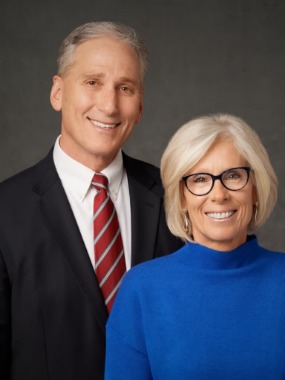 "We're excited to get back to our roots here in England and immerse ourselves within the culture," declared the new England Leeds Mission Leaders of The Church of Jesus Christ of Latter-day Saints, President David V. Clare and his companion, Sister Jayne Clare. They began their work in the UK, July 2022.
"We feel very blessed to be called to serve where our heritage begins," says President Clare. "There is a town called 'Clare' in Suffolk and Sister Clare's family name is Brimhall which comes from 'Bramhall' near Stockport."  
The Clare's have been married 41 years and have eight children with fifteen grandchildren. They love living on their small farm in beautiful Salem, Utah, USA, where they have lived for 31 years.
Professionally, President Clare graduated in computer science from Brigham Young University, Utah and worked in high tech for his entire career until joining the Information Communication Services department of the Church. In this capacity he was Director of the Ecclesiastical Division supporting the various departments of the Church in automating and building web and mobile solutions, including Gospel Library, ChurchofJesusChrist.org, etc. He later moved to the Priesthood and Family department as director of home and family products, until being called as mission president.   
President and Sister Clare hope to build on the rich foundation of sacrifice and service of the early Church members in England with the 140 modern-day missionaries of the Leeds mission.
One of the things that President Clare focuses on is how the Lord is hastening His work on both sides of the veil. "We need to keep our eyes on the temple and become a more holy people so we can receive more revelation in our lives. I hope the missionaries will learn to link arms with the British angels of the past who are also invested in the work here."
"Our desire as a mission is to 'sanctify ourselves' so that the Lord will do 'wonders among' us as He promised Joshua of old (Joshua 3:5). We have loved the faith and the devotion of the wonderful members in England.  We are humbled by their consecration and love. We feel the Lord is preparing a remarkable work and wonder in this beautiful land."
"We have been so overwhelmed in the power of these righteous young missionaries," says Sister Clare. "They have been prepared for this time in England. We feel deeply grateful for this opportunity to serve with them."
President and Sister Clare commented, "Our greatest joy is to be in the service of our Saviour. We love Him will all our hearts. We consider this a precious gift to 'walk with Him' in the gathering of His children. We feel that many miracles and blessings will be coming to this land and people."