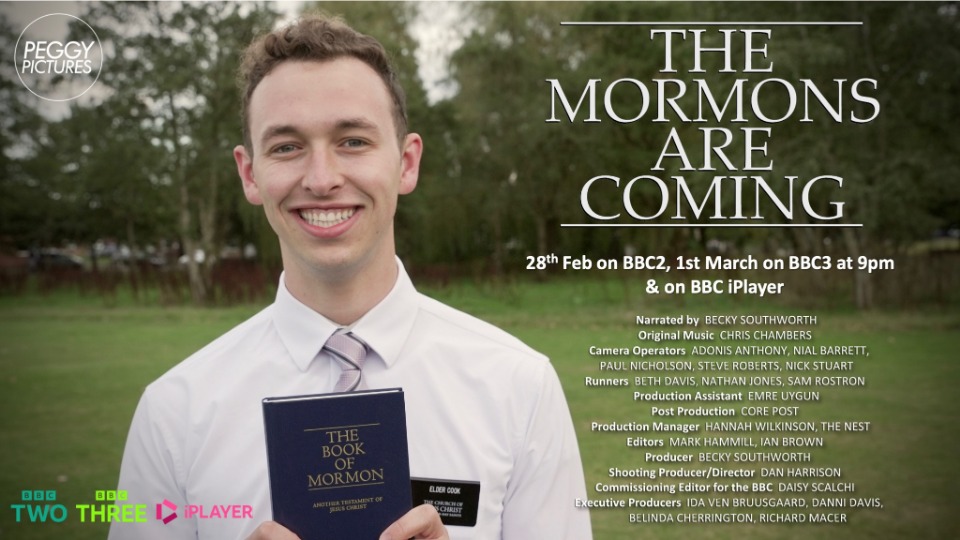 The ground-breaking one-hour BBC programme 'The Mormons are Coming,' about The Church of Jesus Christ of Latter-day Saints, features missionaries from the England Manchester Mission and young adults in the UK and the US. Offering unique insight into the everyday life of these young volunteers, the show includes extensive access to the England Missionary Training Centre in Chorley, Lancashire and provides a flavour of life for the Church's young adults on both sides of the Atlantic.
Although responsibility for editorial content rests with the broadcaster, the Church cooperated with the programme-makers during the two-year production period. The film was commissioned by BBC Religion and Ethics and produced by Peggy Pictures.
"The show is positive and balanced overall and is bound to prompt gospel conversations between members of the Church of Jesus Christ and their friends," according to Elder Martin J. Turvey, Area Seventy. "Although some alternative views are expressed in the documentary, it's likely to provide opportunities for Latter-day Saints to respond to questions and convey their faith in Jesus Christ."
The full name of Church is referenced within the film and it was the BBC's choice to use 'Mormons' in the title and at various points during the programme. The documentary depicts the Church as a Christian faith, contributing to the religious life of the United Kingdom. Missionaries are shown using social media to share their beliefs.
The programme is due to be broadcast twice to network audiences (February 28 on BBC Two, March 1 on BBC Three) and will be available via BBC iPlayer. The programme contains one use of strong language.