The British Pageant is underway in Chorley, Lancs, thanks to the dedication and sacrifice of thousands of volunteers. Though the opening night on Wednesday 31 July saw heavy downpours, that did not deter excited audiences who have waited to see the much-anticipated national production by The Church of Jesus Christ of Latter-day Saints (Mormons).
It's been a challenging and demanding task to be a part of the Pageant. For the past week, intensive rehearsals have been held from 8am and into the night.  Cast members have gone the extra mile so that they could be as flawless as possible in their performances.
Lisa Rowe, a member of the choir, said that she's given her all throughout the rehearsal process. During the performance she stands on a wide bridge that spans the entire width of the stage, with the rest of the choir.  Rowe observed that not just the Pageant volunteers had been going to great lengths for the Pageant: "It amazed me how far some people had travelled – we had people visiting from Denmark and America as well as nearer places like Wales, Manchester and Bournemouth."
Travel time and less sleep aren't the only sacrifices being made by the cast and crew of the Pageant. Some participants have been camping in tents in order to be close to the Preston Temple site, as local hotels, bed and breakfasts and inns have been fully booked.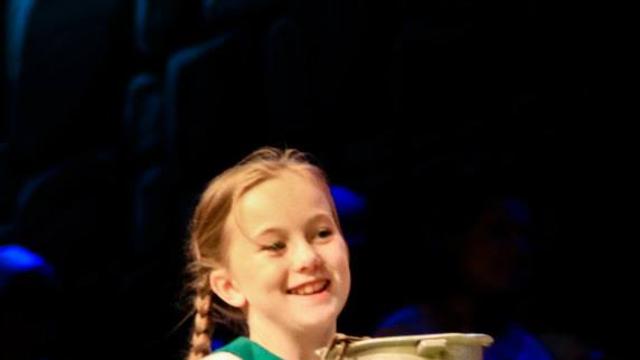 Though the hours are long and the last rehearsals have necessarily been repetitive, cast and crew members have all reported it's been an experience of a lifetime.
"It's been such a spiritual experience for me and my family," said Carol Beasley, a supporting cast member from Loughborough, Leics. "We hope all who watch it enjoy it and find a way to relate to the story there."
Beasley, her husband Michael and their children, have sacrificed much to be part of the Pageant cast. They are volunteers, and for the past five months have given their free time and weekends to prepare for the Pageant. They have enlisted the help of extended family in making their nineteenth-century style costumes. For the week of dress rehearsals and the two weeks of performances, they have even donated their holiday time off work to be in Lancashire, performing.
When asked if she would ever consider undertaking such a huge commitment again, Beasley said "Yes, in a heartbeat! I'd line up and audition for days if it meant I could be a part of something like this again."
Assistant Director of the Pageant, Jonathan Mace, has got to know the cast members well throughout the rehearsal process as he has taught and instructed volunteers. He recalls a great spirit of sacrifice of these supporting cast members as he watched the first night's performance, "One of our 'fathers' was giving his all to a dance, though it was clearly outside his comfort zone; and one of our 'mothers,' has 4 or 5 children and is performing at 7 months pregnant!" Though most of these performers have little or no experience in theatre and performing, Mace said, "They inspire and amaze me with what they achieve up on stage."
At a pre-show cast meeting, Pageant Director and head writer Alexandra Mackenzie Johns captured the motivation of these scores of willing participants in the Pageant.  Her advice to the cast: "Remember we are not 'pretending' to be seekers, to be saints, to be followers of Jesus Christ. We are seekers, saints and followers of Jesus Christ. Go out there and share your heart."