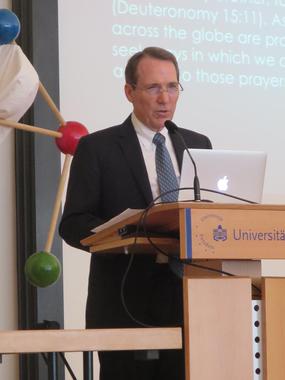 Under the motto "Religion, Sustainable Development and the Refugee Crisis", this year's interreligious G20 conference took place in Potsdam last week. Several representatives of the Church of Jesus Christ of Latter-day Saints were among the participants. Since 2014, academics, as well as representatives of different religions, governments, and interreligious forums have been meeting each year in the country that is hosting the G20 Summit.
The G20 is an informal group of states that want to promote international cooperation on key issues. This year, the talks will concentrate on the achievement of sustainable development goals, the fight against causes of flight and the fight against youth unemployment and climate change. In addition, economic development in Africa is to be strengthened. In particular, the focus is on energy supply, human nutrition, industrialization, the development of infrastructures and the improvement of living conditions.
Elder Gary B. Sabin, a member of the Presidency of the Church of Jesus Christ of Latter-day Saints in Europe, spoke about the challenges of actual famine and refugee flows, and how the Church is doing this. Quote: "Even if the focus of the reporting has changed, the current need for help is enormous and continues to grow. We all have a great responsibility to help those who are in need."
Frerich Görts, who represents the Church of Jesus Christ of Latter-day Saints in Germany in public relations, moderated a discussion on the influence that religions can have on economic development. The call for a strengthening of the religious freedom through the conference attracted a common thread.