On Friday, 14 January 2022, Elder Massimo De Feo, President of the Europe Area of The Church of Jesus Christ of Latter-day Saints, joined several European senior representatives from various religions including Christian, Muslim, Buddhist and Jewish faiths, as well as humanist and non-confessional organisations.
The invitation came from Commissioner Margaritis Schinas, Vice President of the European Commission, to discuss the progress of the ongoing Conference on the Future of Europe. He was joined by Vice President Dubravka Šuica. The meeting took place online due to COVID restrictions.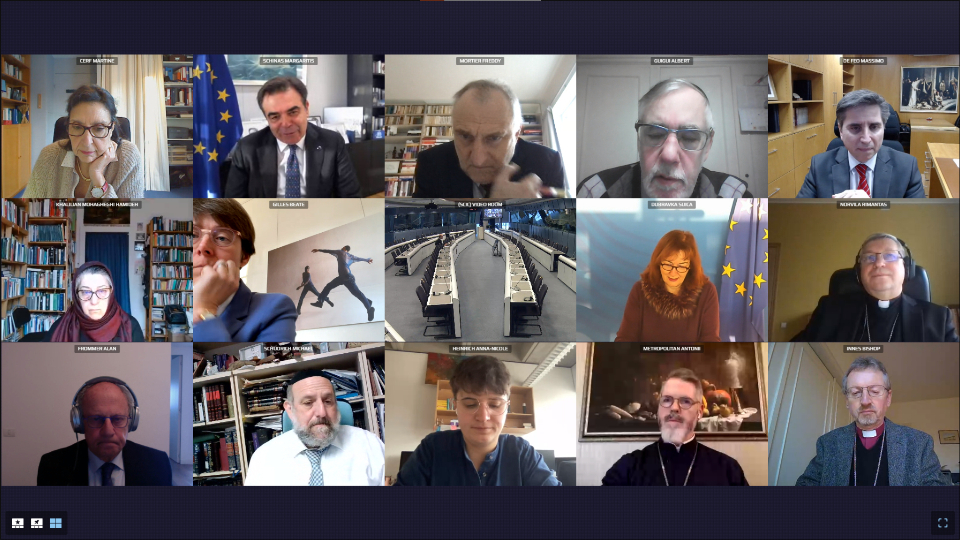 The Conference on the Future of Europe is an initiative for European citizens to debate on Europe's challenges and priorities. The High-level Meeting touched on many of the ideas and proposals shared so far on the Conference themes, such as climate change, health, the economy and employment, digital transformation, the rule of law, security, and the EU's foreign policy, as well as migration. The Conference is expected to reach conclusions by Spring 2022.
In this context, Elder De Feo touched on climate change, explaining that "For people of faith, protecting and preserving our planet is not just a matter of survival. It is our home, and we consider it a creation and a gift of God." He then focused on migration. In his comments, he cautioned on the fact that according to the latest interim report, "this is the most polarizing of all the topics," inviting the representatives of the EU institutions not to quickly dismiss any of these voices. "As a church," he said, "we will continue to help and support refugees and migrants by partnering with governmental and non-governmental organizations as we have been doing for almost 40 years, since we launched our global humanitarian efforts."
He also reminded the European Commission that "true solidarity is needed between Member States to avoid discrimination and respect the human dignity of every migrant." Elder De Feo concluded by renewing the Church's commitment to the well-being of all God's children in Europe and internationally. Following the leaders' opening statements, the debate allowed participants to discuss the remaining themes.
This meeting was part of the open, transparent and regular dialogue with the European institutions in the framework of the Article 17 TFEU Dialogue. The European Commission will publish a report.
The Church of Jesus Christ of Latter-day Saints, a Christian faith with half a million members in Europe, seeks cooperation with political and institutional bodies as well as reaching out to international NGOs, religious organisations, and civil society.
You can learn more about the Church's EU & International Affairs Office on its Facebook page: www.facebook.com/CHURCHinEU