On this special Christmas episode of Hope Helps, host Charly Burridge-Jones discusses the magic of festive traditions with UK residents from around the world. Although it's said to be the most wonderful time of the year, many may be spending the festive season in less than ideal circumstances. Featured guests Amy and Michael Morris—whose experience fostering 21 children has brought them face to face with real trauma—provide a unique perspective on how to feel the Christmas spirit no matter the situation. They share the remarkable story of how their family grew from zero to seven children overnight—just in time to celebrate Christmas—and how they stay happy throughout life's ups and downs.
After marrying five years ago, Michael and Amy Morris became open to expanding their family in non-traditional ways. The couple began by fostering children and later decided to adopt. During their search, they found seven beautiful children—all siblings—looking for a new home. "We felt so much peace knowing that they needed a stable and secure home somewhere," remembers Amy. "And why not us? We were ready to give it our all."
After a thorough screening process, Amy and Michael became the childrens' adoptive parents—just in time for the festive season. The Christmas tree was piled a metre high with gifts donated by members of their church congregation, who also assisted in gathering the furniture, supplies, and everyday items needed for a nine-person household. Although they were "all strangers," Amy, Michael, and their new children spent that first Christmastime playing games, enjoying the magic of Christmas snow, and ultimately getting to know each other. The Christmas break was a perfect time to begin bonding as a family.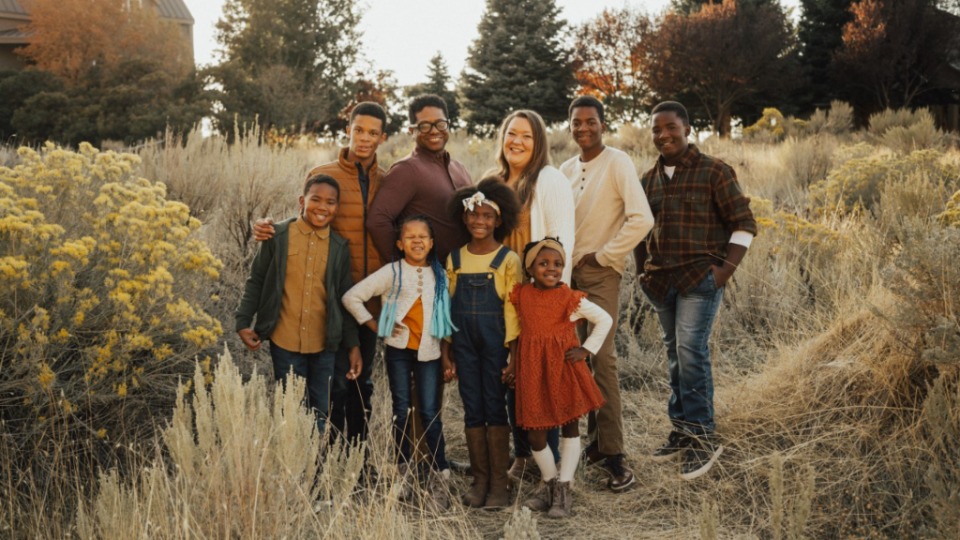 What was it like to go from zero to seven children overnight? "It was an extremely humbling experience," admits Amy. "Some days were wonderful… other times were hard. The children struggled and we struggled." However, the couple believes God meant them to be a family. "It has just felt like it was so meant to be," says Michael. "We were coming together as a family, but in a way, we had been a family before this life."
Amy and Michael remember lonelier holidays. "Sometimes we can be surrounded by people and still feel [lonely]," reflects Amy. "If we open up and talk about [our struggles], we realize that we're not alone… We should all rely on each other more." Michael adds that whether we find ourselves in an ideal situation this Christmas season or not, "each of us has the opportunity to extend [kindness] to someone else… it's a time of year where we can give something of ourselves and feel some joy through what we're able to offer others."
This Christmastime, the Morrises and their children—who have now been together four years—look forward to their festive countdown, wearing special pyjamas, singing Silent Night, eating good food, and spending time serving each other. They find hope this year and every year in knowing they have a Heavenly Father who loves them and supports them. "If everyone could just know that," Amy says, "then all of their hard challenges would [become a] little bit easier."