Roy Hann (43) and wife Emma (43), have been married 22 years and although they both always wanted children, they never had a number in mind. They are now the proud parents of: Rachel (21), Sophia (20), Polly (18), Charlotte (16), Alice (14), Annabelle (12), Jennifer (10), Isabella (9), Jonas (7), Enos (5), Eva (3) and baby Posy (21 months).

After the birth of their 12th baby, Posy, an accidental chat in the hospital with a newspaper reporter resulted in a story in the local newspaper. There was a great deal of media interest in the family and this resulted in their appearance in the Channel 4 documentary "15 Kids and Counting".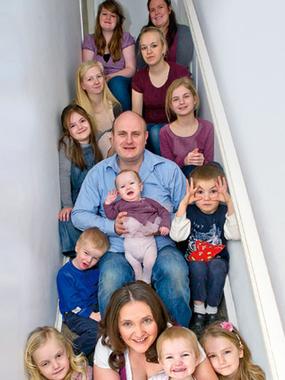 They were later approached by CBBC to take part in a programme as part of their BAFTA award winning "My Life" series. In the programme, their 12 year old daughter, Annabelle, narrates her unique family life as seen through her eyes. This was a fantastic opportunity for the Hann family children to share their story and their perspective on their family and their faith. The programme depicts their day to day life, and captures their daily routine and the way they live as a large family.

CBBC wanted to tell the story of a large family from the perspective of the children: "As their Mormon faith is a big part of who they are, we are keen for the children to share what their faith means to them as children, how they practice this and how it affects them. We will also be following the family during an exciting period in their lives, as their eldest daughter, Rachel gets married and leaves home. This will be a wonderful journey to follow as the family prepares for the big day, and we will see the whole family celebrate in church"

The programme is centred around the preparation for the oldest daughter, Rachel's wedding and travelling to the Preston England Temple. Animation will be used to explain to their young viewers what Mormons believe about sealing. The family have found filming very fun!

The Hanns, who live across the road from their ward meetinghouse (in the Dundee Scotland Stake) have enjoyed filming family home evenings, church tours and wedding preparations. Emma says, "We love our children and have enjoyed being able to show how important our family is to us, and it has been lovely showing how important the teachings of the Saviour are in the raising of our family."

The programme is due to broadcast on CBBC on the 26 February 2013 at 5:45pm.

Meanwhile, Channel 4 have approached the Hann Family and they will feature in "16 Kids and Counting", which is due to air in April.