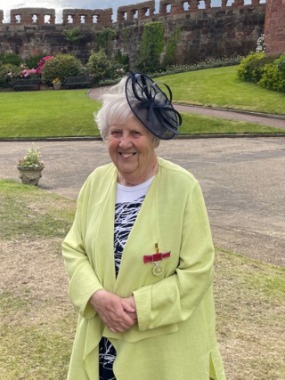 Sister June Beharrell of Shrewsbury Ward, Newcastle-under-Lyme England Stake, was named in the 2021 New Year's Honours List and awarded the British Empire Medal for "Services to Charities". 
The medal was presented at Shrewsbury Castle on 18th May 2021 by the Lord Lieutenant of Shropshire, on behalf of Her Majesty, Queen Elizabeth ll. (About 300 British Empire Medals are presented every year after considering nominations made by members of the public, who hope to bring recognition to the outstanding service of individuals in their communities.)
After her husband Gordon was diagnosed with cancer and died, and following his fund-raising efforts, Sister Beharrell and her family continued collecting for the Lingen Davies cancer charity, Severn Hospice (Shropshire), and other charities. Of Gordon she said, "He shouldn't have been going to the Shrewsbury Market entrance hall to collect money at all, but he told me that if something was going to happen to him, at least he'd be doing something worthwhile".
In 2009 shortly after Bro Beharrell's passing, June records. "I was lying in bed feeling sorry for myself, but instead of shedding tears, I thought, 'I am going to the market on Saturday, and I am going to collect for the Severn Hospice just as Gordon would have done.'"
From 2009 June continued to collect donations in Shrewsbury Market by sitting in the hall entrance from 9am until 2.30pm almost every Friday and Saturday, whatever the weather or temperature. In the winter when the cold wind would blow through the entrance, June would take a rug to keep warm. In 2020, amidst the COVID-19 national lockdown, June was not able to collect in the Market, so her family helped her set up an on-line fundraising account which proved very successful.
Now that things have been returning to normal, June has returned to the Market to continue collecting donations. Kate Gittins, Shrewsbury's Market Hall Manager said: "The market's customers love her; for some she has become their confidante, for others, particularly those visiting the market for the first time, she provides a warm welcome with her charming smile and generosity of spirit." The Shropshire Star reported that"her fundraising over the years has helped to fund the general running costs of the hospice and enhanced the care of thousands of people over the years."
Professor Derek Willis, Medical Director at Severn Hospice says, "We need specialised mattresses, we need specialised beds, we need hoists to be able to move people, and to make sure their basic care is provided for. It's such important work. It's through the incredible generosity of people like June, that we can do that. What a legacy! What an amazing thing to be known for."
This humble and amazing 81 one-year-old sister has been taken a little by surprise by the attention. She has been contacted by the media and been interviewed live on BBC Radio Shropshire. When the email came in December 2020 officially notifying her of the British Empire Medal, she thought it was a 'scam', and had to ask one of her sons to check it for her.
But this is not June's only experience with 'celebrity status'. In 2020 she was nominated for a civic award by the Mayor of Shrewsbury for "charitable services", which recognises those who have gone "above and beyond".  She received a certificate for being nominated.  June has also received a 'long service award' from the Severn Hospice. In 2013, June was invited to attend a Royal Garden Party at Buckingham Palace in recognition of her charitable work.
June insists, "It's the donors that deserve the credit" and "the members of my family who have all supported me". She continues, "After Gordon's death the family took over the collection and we are all in it together, my sons and grandchildren".  This has been a family affair: June's son, Adam, helping with transport to and from Shrewsbury Market. Her daughter-in-law helping with the safe depositing of donations; son Mathew, running a full marathon to raise money in the UK and with his brother, John, cycling from London to Paris (via a ferry) to raise money; 9-year-old grandson Josh, creating his 'My Marathon Challenge', which became known around the county of Shropshire, running a mile a day around the school sports field for 26 consecutive days, raising over £1,000.
Including the efforts started by Bro Gordon Beharrell who initially had raised over £130,000 for the Lingden Davis and Severn Hospice, the family collectively have raised over £211,000 for various charities. It has been hard to get clarity about the amounts raised by the family, as their focus has always been on the service given and not the amount raised.
June admits, "Service has always been part of my life. It's in my blood". She started to serve as she engaged in civic youth programmes when she was a young girl, starting as a Brownie, then on to being a Guide, and then a Ranger. As an adult June has also been very active in the Church since her baptism in 1964, having had many opportunities to serve her fellow members through callings in Primary and Young Women. She has also served as a ministering sister throughout her Church membership. She was released in 2020 as the Ward Relief Society President, at age 81!
About collecting for charity, June records; "It's taught me a lot, sitting in the market.  It's taught me empathy, it's given me the opportunity to serve, to show love and compassion to people. I love it because I see people who are kind. It's all about caring, just like the Saviour. It doesn't matter what colour you are, what religion you are. … when I'm collecting people very often tell me when they have problems in their family. I've held people's hands and cried with them."
Through June's service she has been an unwitting but natural missionary. She quietly explains about some who share that they, or other family members, are struggling with health or other issues. "They have known I am a member of the Church and have asked me if I would say a prayer for them."  When appropriate, she even asks some regular donors if they would like the names of their loved ones who are ill to be put on the Church's Temple Prayer Roll, which they enthusiastically agree too!
She says, "I have a testimony of the gospel of Jesus Christ. It's all about caring for others, just like the Saviour—seeking people out and helping them. And that's what we do as a church. We've all got the opportunity sometimes in our lives to give love and friendship to other people, and I think I am very fortunate to do that."