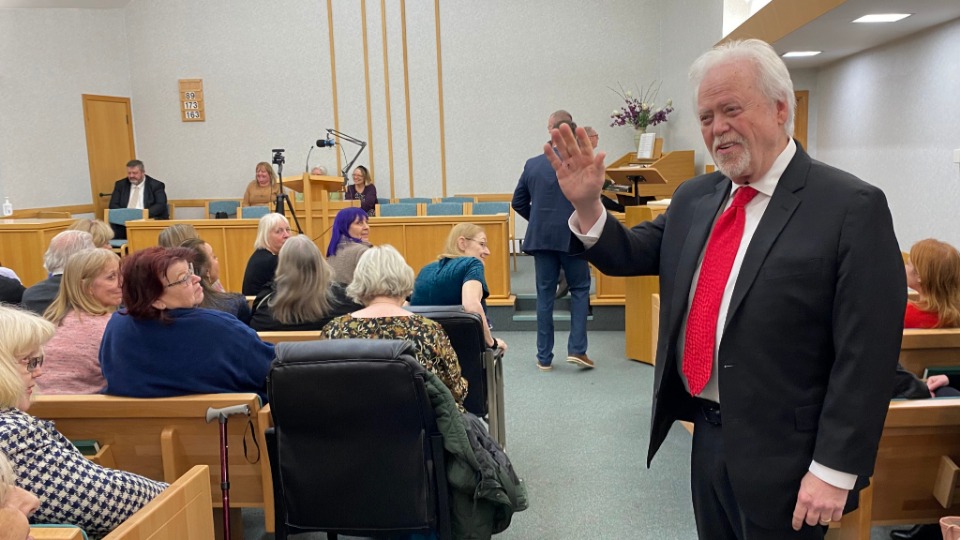 Merrill Osmond, lead singer of the world-famous Osmond family and his son Justin Osmond, motivational speaker, returned to the UK to inspire and entertain guests at an evening devotional sponsored by The Church of Jesus Christ of Latter-day Saints in the Birmingham area on 15 January 2023.
The Osmonds were in the UK hosting the twelfth annual Serenity weekend at the Forest of Arden Marriott Hotel and Country Club near Birmingham to talk about things that matter most.
Just before the evening devotional, a reception for the Osmonds was held at the Solihull Chapel where Justin reconnected with Richard Grant who he had worked with during voluntary service to the UK deaf community years earlier. The pair's previous assignment was part of their mission for the Church.
Justin said, "My heart is full tonight. The UK is my second home with its beautiful green pastures and to reconnect with my hero, mentor and dear friend, Richard, who changed my life."
Richard said, "It has been 25 years since we last were together. Justin is a fantastic guy. He was when we were serving together, and he is now. He honestly wanted to serve with all his heart, and he has not changed.
Born with a 90% hearing loss, Justin knows first-hand the challenges that confront those with a hearing disability. Rather than letting this loss define him, Justin has travelled the world helping the deaf and hard of hearing in underdeveloped countries and encouraging all to follow their dreams despite difficulties.
 He recalled a time when he questioned his faith as he experienced the mocking of classmates regarding his beliefs. With the encouragement of his parents and his own desires, he gave a presentation to his history class that was received with respect and greater understanding.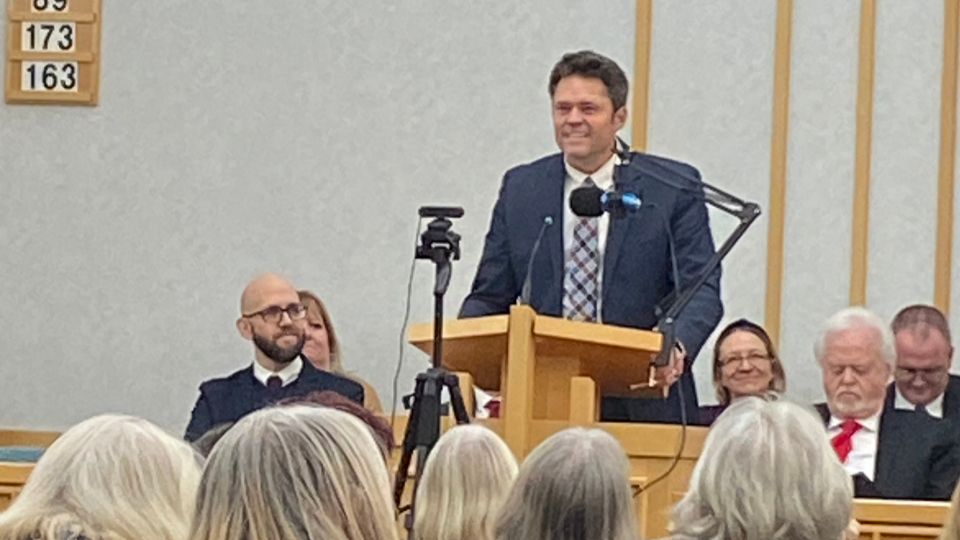 Justin directed participants to ask themselves if they were willing to change their mindset to better hear and act on the words of the Saviour. Justin said, "Our Heavenly Father will always come to the rescue with eternal truths if we let Him." 
He gave a variation of a quote by Ralph Abernathy, "Faith is not knowing what the future holds, but knowing who holds the future." 
Together, Justin and Merrill have created several presentations of combined life lessons through a programme called Sound Advice. The focus of the 2–3-minute presentations is to share how hard work, perseverance and positive attitudes can make a difference in our personal lives.
Merrill introduced himself at the devotional by saying, "I am a blessed man. It was right here in this country where things ignited for the Osmonds. We love being here." He spoke of meeting Queen Elizabeth and how Paul McCartney had defended the talents and contributions of the Osmonds.
Merrill has been in the entertainment industry for 64 years. Growing up, their family motto was, "We are going to keep doing it until we get it right." He said that everyone has different responsibilities and different stewardships. "Ours was to bring people happiness."
Recently Merrill felt impressed that it was time to slow down and do something different from his work in entertainment. He and his wife Mary will be serving as missionaries for the Church in the Washington DC Visitors' Centre, US. They begin their volunteer service April 2023.
Many of those present at the devotional have been influenced by the example of the Osmonds and some even joined the Church and wanted to meet Merrill and Justin in person.
Beverley Ramsay of Rugby said, "I feel like I grew up with the Osmond family. I was 15 years old when I joined the Church. It is the best decision I have made. I think of the Osmonds as my missionaries."
Robert Ramsay was also influenced by the Osmonds and his girlfriend at the time, Beverley. "We dated and talked about the Church. When I read the Book of Mormon, I knew it was an ancient record. I agreed to meet with the missionaries and later became a member."
Kathleen Armstrong said, "Because I was an Osmond fan, I read an article about them and found out that they were Latter-day Saints. What is that I wondered, so I investigated further and was later baptised."
Speaking of the Osmonds' influence, Judith Potter recalls, "I loved their way of life and the example of their family. I wanted to be like them. Because of the Osmonds, I later joined the Church."
Merrill and Justin closed the evening with questions from the audience and then affirmed their love for those present. They acknowledged the collective effort of many to their success but most importantly to Jesus Christ. "We give Him the glory," said Merrill.
The inspirational evening ended with Merrill singing a solo, "I Am a Child of God," (Hymns p. 301) and Justin signing the words to the song, as he stood by his side.