Outstanding global pioneers were honoured at the 2017 Scottish Interfaith Awards held at the Scottish Parliament, Edinburgh, (16th November), sponsored by The Church of Jesus Christ of Latter-day Saints (Mormons).
Trishna Singh OBE is a first generation Scottish Sikh.  She founded 'Sikh Sanjog' in 1989, in the kitchen of an office block, to provide support for women in the Edinburgh Sikh community.  Since those humble beginnings, the progression has been phenomenal, thanks to her unending work.  "We are here to make sure that the women who come to us leave with increased confidence, skills, and a new and continuing support network that they can trust and rely on," says Trishna.   Accepting the award for Trishna were her daughter and daughter-in-law, Neelam Singh and Sharon Kusbia.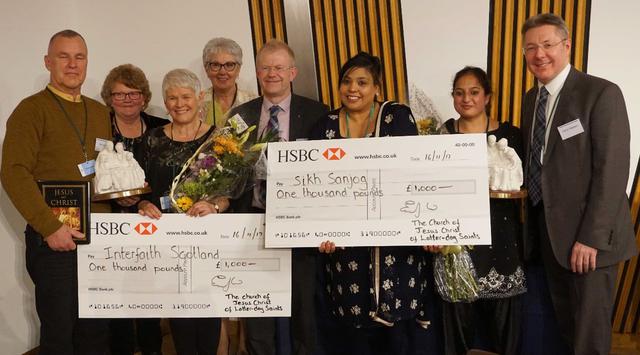 (Interfaith Awards recipients and guests:  (L to R):  Nick Sier; Anne Edwards, Church Public Affairs Government Relations Scotland; Maureen Sier, recipient, Director, Interfaith Scotland; Evelyn Liston, Church Director of Public Affairs Scotland; John Mason MSP; Sharon Kusbia, recipient's daughter-in-law; Neelam Singh, recipient's daughter, Daryl Watson, National GB Public Affairs Director of the Church.)
Dr Maureen Sier joined the Baha'i faith at the age of 17.  She currently serves as the Director of Interfaith Scotland.  Her objective is to continue assisting Scotland to be a welcoming place for people whatever their religious or cultural background.  Before this post, she was a Development and Education Officer with Interfaith Scotland for almost 15 years.  She founded the Scotland America Faith Exchange, is a member of the Co-ordinating Committee of the European Women of Faith Network (World Religions for Peace) and serves as Vice Chair of the Baha'i Council for Scotland.  "The Baha'i faith and The Church of Jesus Christ of Latter-day Saints have some similar touchpoints, as both religions come to light about the same time in history, surviving tremendous persecution, yet truth survives and has spread throughout the world.  I am honoured to accept this award," says Maureen.
Evelyn Liston, Director of Public Affairs for Scotland for the Mormon faith, said: "The world needs more women like Trishna and Maureen.  I am grateful for their example and support to all of us."