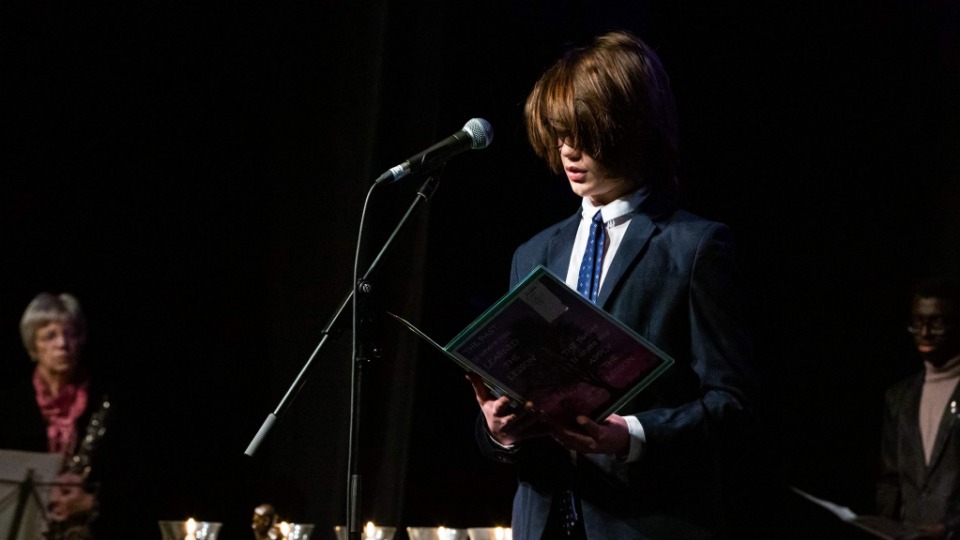 Owen Silsby, a year 11 student and member of the Poole Ward (congregation) of The Church of
Jesus Christ of Latter-day Saints was nominated by his bishop, Jordan Travers to participate in this
year's annual Holocaust Memorial Day Service at the Poole Lighthouse Theatre.
Because of a previous successful interfaith event, Lynda Ford-Horne, Chair of the Bournemouth and
Poole Holocaust Memorial Day Committee asked if a young person from the Church would be willing
to do a reading for the service.
She explained, "The theme for this year's Holocaust Memorial Service is 'Ordinary People' and we
want ordinary people who do good works to take part."
A short portfolio of each of the seven young 'ordinary people' selected was projected at the back of
the stage. For Owen, it described him as being a student who, "loves parkour, history, Greek
mythology, Business studies, and is a keen Xboxer. Owen is president of his Young Men's group at
The Church of Jesus Christ of Latter-day Saints helping various communities and does charity work. "
Owen spoke before an audience of about three hundred people saying, "We value the sacrifices of
those who risked their lives to protect or rescue victims as a touchstone of the human capacity of
good in the face of evil."
The main speaker at this event was Lady Milena Grenfell-Baines who shared her story of survival
after coming to the UK on the last Kindertransport train from Prague on 31 July 1939.