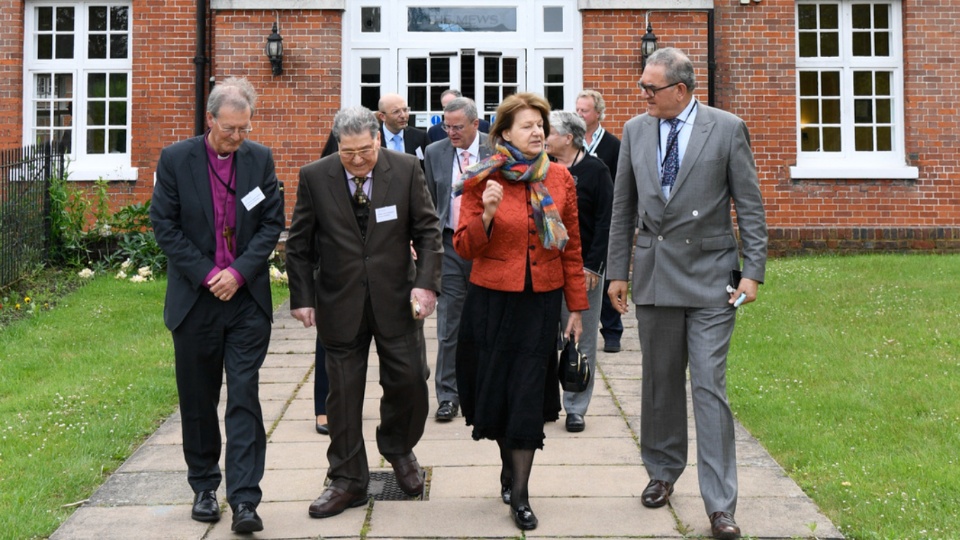 The mental and emotional health of millions of people in refugee camps, and the support they need in expressing religious faith, was the focus of the 2021 AMAR Windsor Dialogue Conference, held June 21-23 at the historic Cumberland Lodge, Windsor, England.
Resources for journalists: B-Roll | SOT
Elder Holland, Windsor Dialogue Conference 2021 (via Zoom)
Elder Jeffrey R. Holland, an apostle of The Church of Jesus Christ of Latter-day Saints, and Sister Sharon Eubank, president of Latter-day Saint Charities, joined the global event via Zoom. The conference was hosted by Baroness Emma Nicholson, Chairman of the AMAR Foundation, and conducted by the Right Reverend Dr. Alastair Redfern of the Anglican faith. The summit brought together faith leaders, academics, and government representatives to address the impact of worldwide religious persecution.
Elder Holland emphasized that "we can't just throw money at" the humanitarian crisis in which 90 million refugees have been driven from their homes. "We still have to make sure that there's something far more powerful and more intangible than that. And that is the very religious faith that gives them their identity."
"Let's make sure we give them that opportunity to continue their hope, their expression, their love of God, or their relationship with God in whatever way it is that they believe."
Elder Holland underlined the essential place of music in religious worship and in boosting the individual sense of self-worth among refugees and internally displaced people. "We need to give to people the bonds that tie them together and that make them who they are, and music is going to be one of those, and music has been one of those for us. They are tied together with this incredible bond."
The Windsor conference gave special emphasis to the plight of the oppressed Yazidi religious minority of northern Iraq. Baroness Nicholson described how terrorist groups had targeted cultural expression, "Music is at the heart of everyone's faith and the Yazidis were not able to practice music in the camps, ISIS were shooting the priests."
Professor Michael Bochmann, professor of violin and chamber music at Trinity Laban Conservatoire of Music and Dance, related how AMAR and their partners had supported the cultural and musical needs of the Yazidis including the recording and promotion of Yazidi music and choral groups. He expressed gratitude for Latter-day Saint Charities in their support of AMAR and said working with Sister Sharon Eubank and Baroness Nicholson was "a really high point in my life. We've brought joy to the Yazidis living in the camps, we've created a choir and we've preserved the religious music of the Yazidi people."
With refugees remaining in camps for an average of 11 years, caring for the mental and emotional health of displaced people is critical. Sister Sharon Eubank said, "Many, many of them saw their families killed in front of their eyes, or they experienced horrific sexual violence or many other very, very difficult things. And that trauma is like a timebomb, it sits under their skin and it's just waiting to go off. It must be gently let out in a safe environment and processed with great skill or the person is forever paused at this intersection."
Citing research conducted within camps in Jordan by the Center for Mind Body Medicine, Sister Eubank said that 32 percent of Syrian refugee adults report feeling so hopeless that they do not want to continue living. "The problem is so big and acute, that no one can crack it," she said. "It will take a coalition with all playing different roles." Latter-day Saint Charities has learned valuable lessons with partners, from experiences in other parts of the world where need is also acute. Sister Eubank offered "three critical suggestions" from these experiences. "One, recognition that spiritual healing is powerful medicine and vital to services. Two, offer basic emotional and spiritual care including examples of others who have recovered and how they found relief. Three, connect the dots of emotional and spiritual care for a full-range, consistent plan."
Boyce Fitzgerald, who oversees the Latter-day Saints' humanitarian outreach in the Middle East/Africa North Area, addressed the practical response to individual needs and in working with local partners. There is increasing emphasis on helping families maintain livelihoods through education and self-reliance.
Other participants in the conference included Elder Gary B. Sabin, Europe Area President of The Church of Jesus Christ of Latter-day Saints; Professor W. Cole Durham, President of the G20 Interfaith Forum; Professor Brett G. Scharffs, Director, International Center for Law and Religion Studies, Brigham Young University; and Dr. David M. Kirkham, Senior Fellow, BYU Law School.  
At a time when religious persecution drives forced migration for millions, Elder Sabin referenced the Latter-day Saints' own early experience of religious oppression and highlighted the principle of religious freedom. "It is the responsibility of all people of faith and conscience to understand and to advance this fundamental human freedom for themselves and for all of our neighbours," he said. "For us, our history's lesson still lingers; it is clear that religious freedom is not to be taken for granted."