The BBC spoke of "record rain in Germany and Belgium". Chancellor Angela Merkel remarked the German language hardly knew words to describe the devastation she had seen. Thousands of volunteers rushed to areas affected by the disastrous flooding in Europe. Among the helpers cleaning up and providing relief were missionaries and members of The Church of Jesus Christ of Latter-day Saints.
"There was an outpouring of kindness, love, and unity. Fear was met with courage, despair with hope," said Elder Erich W. Kopischke, First Counsellor in the Europe Area presidency. "As a Church, we're deeply grateful to all who've sacrificed their time and resources to help those in need. Seeing our missionaries and members serving alongside with neighbours, friends, and with total strangers, fills our hearts with humility and joy," he added.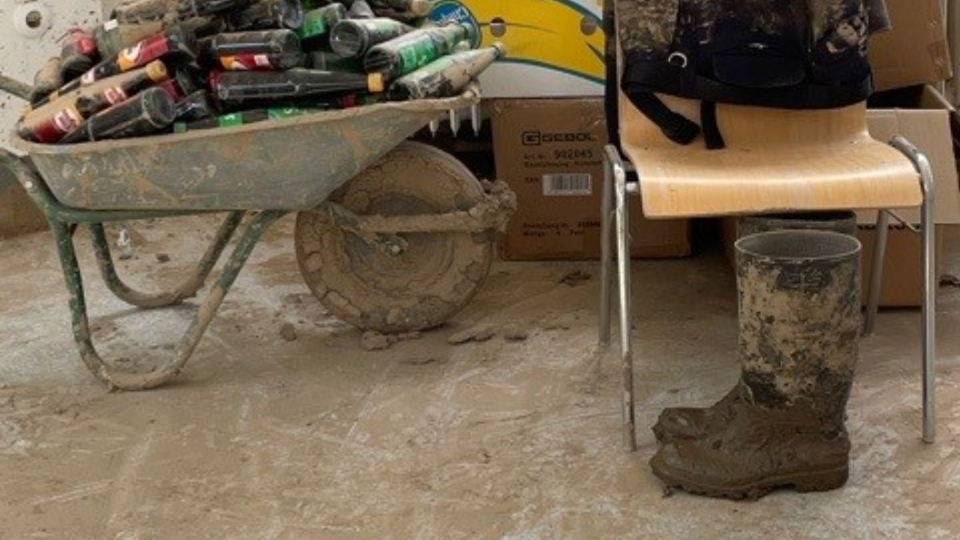 "Streets don't exist, homes are wrecked"
"In this catastrophic situation, The Church of Jesus Christ of Latter-day Saints sent missionaries as helpers," explained Manfred Gerlach, one of several local members tasked with managing relief efforts. Young women and men serving in the Germany Frankfurt Mission interrupted their routine of teaching and caring for people's spiritual needs to pitch in in the disaster zone.
One of these young missionaries was Sister Maggie Mace from Lynchburg in the U.S. state of Virginia. "Imagine this: you arrive in a factory parking lot with seven other missionaries. You hop out to see hundreds of people around you in muddy overalls and rubber boats", she recalled. "You see that the city is destroyed. Streets don't exist, homes are wrecked, and there are mountains of people's muddy possessions lining where a street once was."
Elder Jeffrey Hilton and Sister Karen Hilton, a retired couple serving as volunteers in the Church Communication Department in Frankfurt am Main, traveled to Bad Neuenahr-Ahrweiler in Germany to assist. "A local ice cream store was obliterated when not one, but two small automobiles were thrown through the front of the building by sheer force of the water," Elder Hilton observed.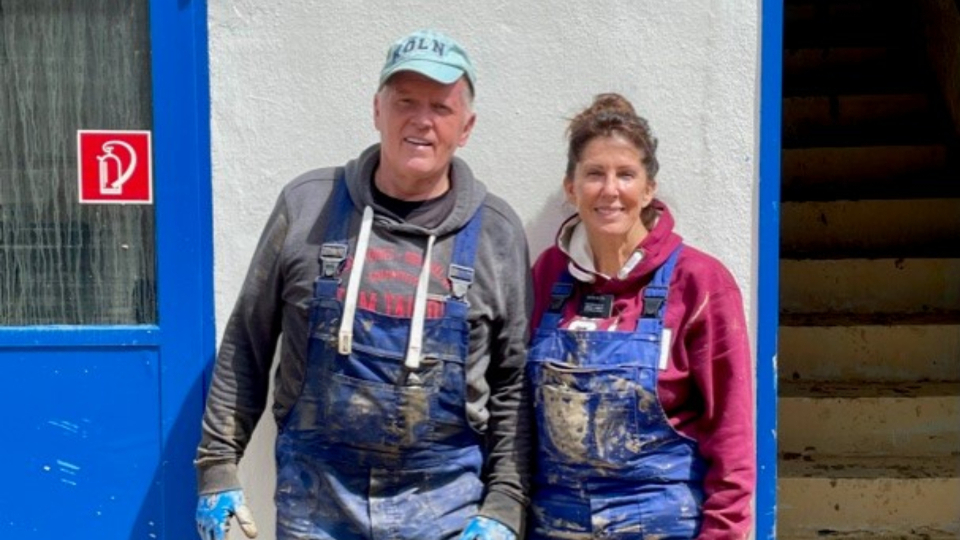 United by a desire to help others
Elder Hilton concluded: "What united the volunteers was the universal language of love and service. It didn't matter where they were from or what dialect they spoke. We were all there for the same reason."
Elder Knighten Cole Worthington, a young missionary from the U.S. state of Utah, said that seeing people come from all over Germany to help and serve those in need was mind-blowing. Looking back at his own volunteer experience, he remembered: "Many experiences this week showed me that when people have lost absolutely everything, they come together with a humble heart and they carry each other step by step."
"Angels on the go"
So far, missionaries and local members of The Church of Jesus Christ of Latter-day Saints have provided an estimated more than 12,000 volunteer hours serving flood victims in Germany alone.
With many of them wearing bright yellow vests saying "Helping Hands", they have been easily recognisable. Locals in Bad Neuenahr-Ahrweiler began calling the missionaries "Engel unterwegs" ("angels on the go") after a few days.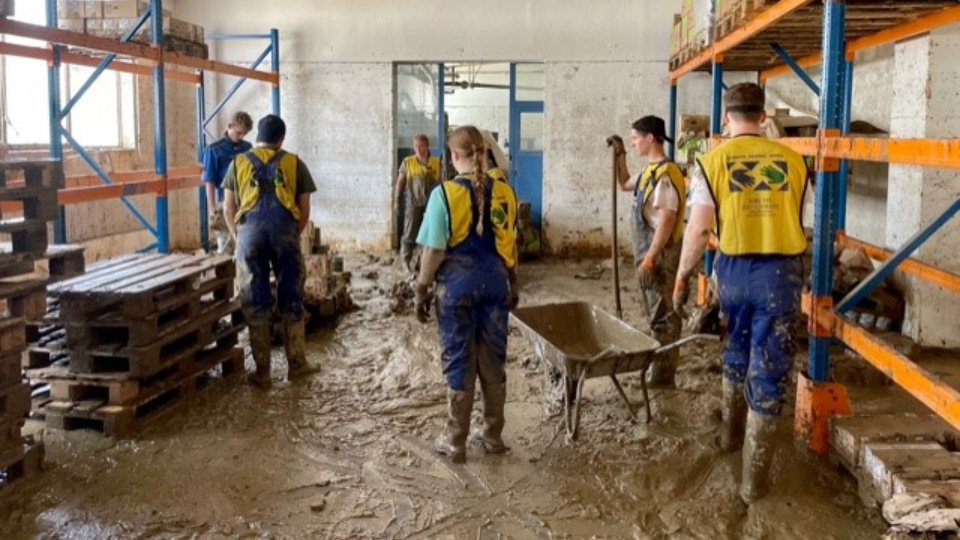 Church volunteers worked with local authorities and responded to the need of individuals, families, and companies. "I soon found myself in a restaurant, helping shovel mud and debris and soiled goods out of the basement", said Elder Jacob Reed. "I had originally thought that we would go there, help until it was done - maybe three or four hours – and then grab lunch and move on to the next house. I was definitely wrong. Bucket after bucket after bucket I carried through the house, onto the street and just poured it all out onto the street. It didn't seem to have an end."
Elder Kopischke also spend a day volunteering in the crisis region in Germany, alongside his wife Christiane, family, missionaries as well as members of other faith groups and organisations. They helped clean a Catholic kindergarten.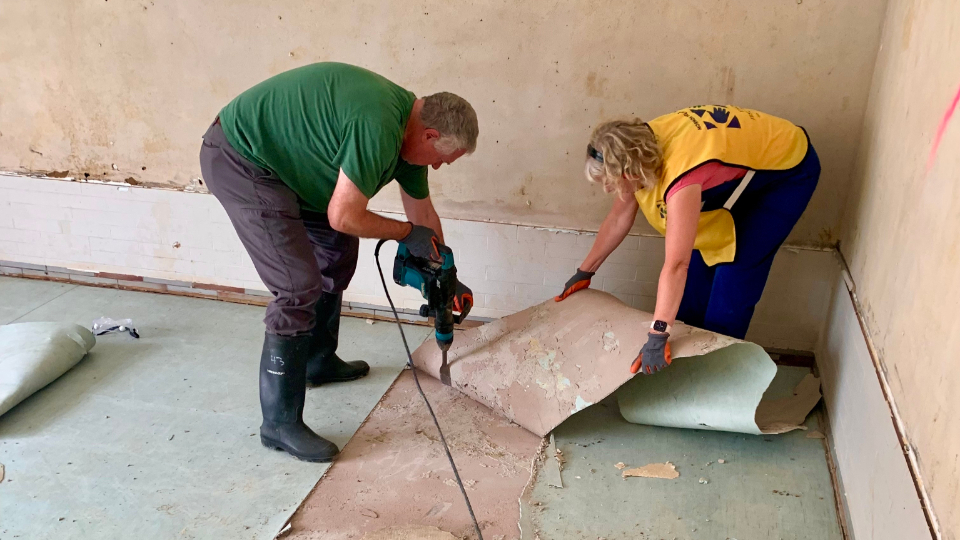 "There was a very positive, cheerful atmosphere, despite the very hard and exhausting labor and devastated surroundings. The helpers were not unhappy and didn't complain about the circumstances but seemed to really enjoy what they are doing," said Christiane Kopischke.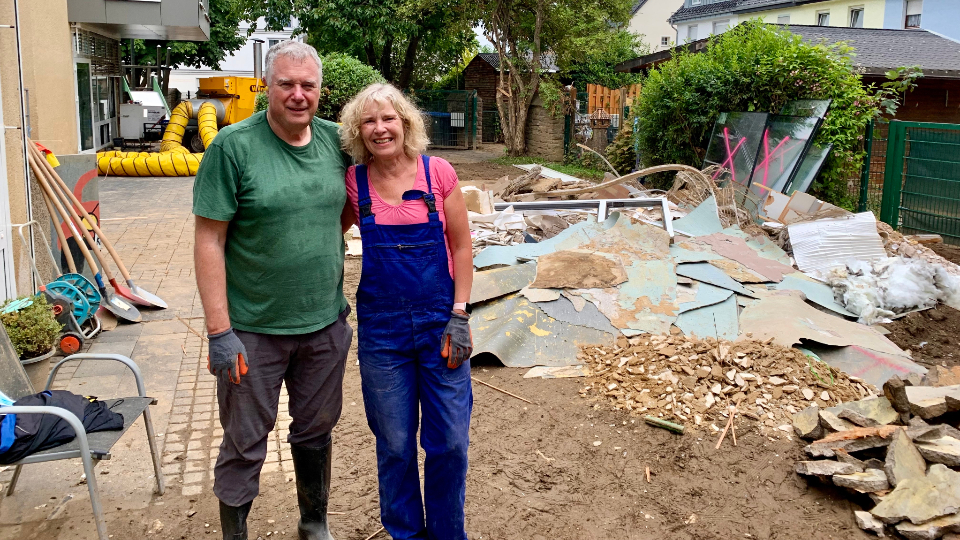 In Switzerland, members and missionaries also assisted people affected by flooding.
Latter-day Saints from Luxembourg donated bags of clothing to the local Danish Protestant Church. The Church also contacted members in affected areas, offering pumps, food, support, and babysitting to those who were impacted.
One week after the flooding had occurred, about 80 Church members from Belgium and the Netherlands as well as missionaries from the Belgium/Netherlands Mission gathered in a suburb of Liège in Belgium. Once arrived, volunteers received assignments on where and how to help. Almost everybody from the Church group was asked to help in the Walloon municipality of Trooz by the Vesdre River. During the flood, the water level there had risen seven meters above the norm. Many residents lost everything and will not be able to return to their homes for months due to the damage. Since, missionaries have returned to the Liège area on a weekly basis to provide assistance.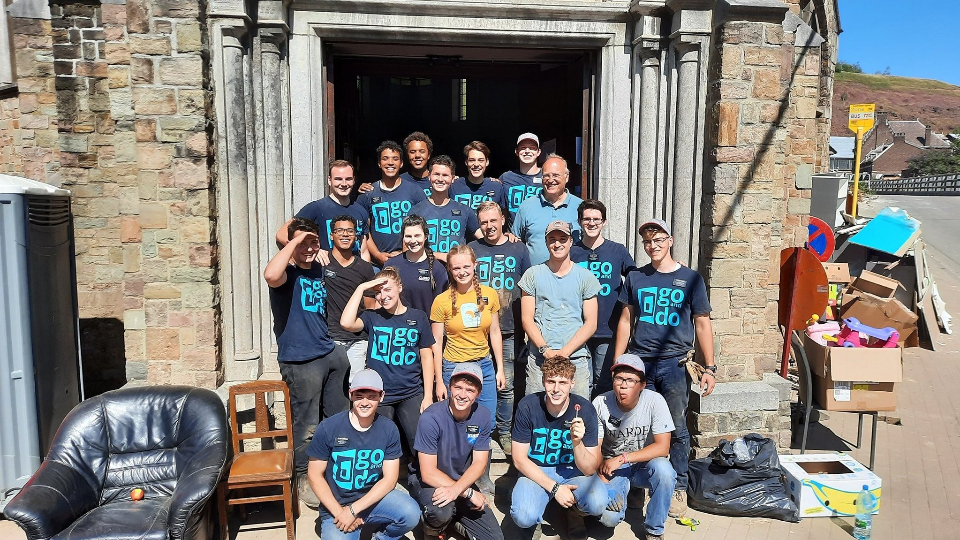 Daryl A. Watson, President of the Church's Belgium/Netherlands Mission, said the relief efforts profoundly reminded him of a statement from the Book of Mormon: Another Testament of Jesus Christ: "When ye are in the service of your fellow beings ye are only in the service of your God." (Mosiah 2:17)
Help was also provided by missionaries from the France Paris Mission. Elder Olivier Seube and Sister Bernadette Seube arrived in Liège just a week after the floods. The immediately began organising service projects to clean the debris from homes and yards. Missionaries from Belgium, Luxembourg and Eastern France joined them to assist and so did local members from Belgium and France. They Seubes communicated and worked with government agencies and non-profit organisations to accomplish their work. They are now in process of planning a charity concert to benefit those affected.
One group of missionaries had some time between two projects and decided to pray and ask God to guide them to somebody who needed help. The felt impressed to walk down a particular street where Martine Durtka opened her door. The missionaries approached her and she said that she could really use some help clearing out her back yard, which was covered with dirt and debris.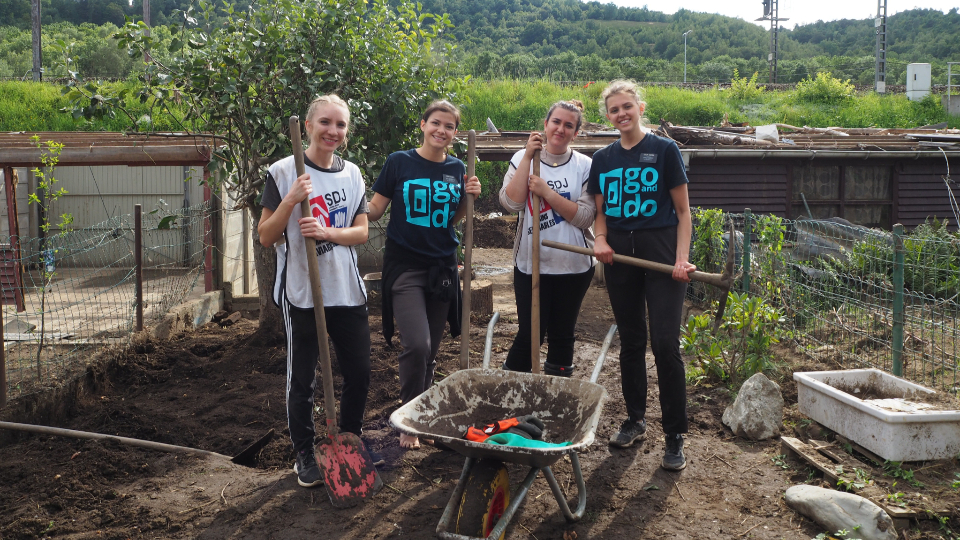 They helped her all afternoon and sent her a photo they took. "Hello, my sisters. Your presence, your kindness, your help, your smiles, your benevolence have given me strength and wings. You touched my soul. Thank you for the picture, we all did a great job together. I thank you from the bottom of my heart," she replied.