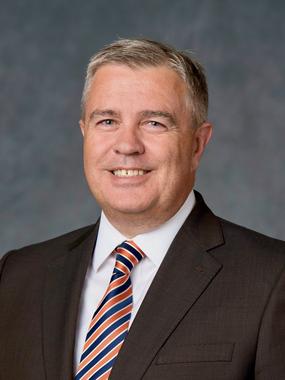 At the April 2020 worldwide conference of The Church of Jesus Christ of Latter-day Saints, President Dallin H Oaks of the First Presidency announced that Martin J Turvey of the United Kingdom was called as one of 58 new Area Seventies.
"I see it as my responsibility to witness of Jesus Christ and carry out His work to preach the gospel to the poor and heal the brokenhearted," said Elder Turvey.
He is assigned to serve in the Europe Area with the commission to provide support to a regional leadership council (coordinating council), a mission, and to several large congregations with multiple units (stakes) in the United Kingdom. In addition, he will address churchgoers at worship services during travel throughout Europe.
Elder Turvey said that it is his strongest desire "to see individuals through Heavenly Father's eyes and leave every person who I interact with feeling a little bit better; both those who have already accepted the gospel, and those who are yet to do so."
He is a second-generation member of the Church. Elder Turvey was born in Northampton and grew up in Kent. Later, he spent a few years in north Wales and ultimately settled just south of Bath, where he and his wife Debra raised their family over the past 26 years.
The Turveys worship at a congregation in Bath (Bristol Stake) where he most recently served as the elders quorum president, assisting the bishop with spiritual and temporal needs of local members of the Church. Previous callings include: bishop, bishopric member, high councillor, stake presidency member and stake president, and mission president (England Leeds Mission).
While reflecting on the rich history of The Church of Jesus Christ of Latter-day Saints in the United Kingdom, dating back to the nineteenth century when over 52,000 converts emigrated from Britain to the United States to join the main body of the Church, Elder Turvey said, "Many say that our best days are behind us. I don't believe that. In my view, this country has a divine heritage and I believe it has an equally divine future. As members of the Church we sometimes think of ourselves as a minority religion and underestimate the impact that our congregations can have. When we combine our strength and desire to live the teachings of Jesus Christ we can have a much bigger impact in our communities than we think."
Elder Turvey spent his early career in sales and marketing and during the last 15 years served as CEO for two different tech companies in the data quality sector. The Turveys have three sons,
three daughters and ten grandchildren.
Other Area Seventies currently serving from the UK are: Elder Mark A Gilmour, Elder Daniel P
Hall, Elder Karl D Hirst, Elder Alan T Phillips and Elder K Roy Tunnicliffe.