During this time of isolation and uncertainty, a musical message of hope was shared around the world from the England Manchester Mission choir on Easter Sunday. The virtual choir was comprised of 111 missionaries and reached an audience of nearly 14,000* through a beloved hymn sung at the 'Why I Believe' devotional broadcast on Facebook Live and posted on the mission's Facebook page. The song is titled "He Sent His Son."
According to President Stuart N McReynolds of the Manchester Mission, the mission's monthly devotionals are usually held in person, at chapels across northwest England and typically see between 250 and 550 people in attendance.
"This is a first for us," President McReynolds said at the gathering. "We're all in lockdown, however, despite the challenges, we felt it important to continue with the devotional, especially on this Easter Sunday."
He went on to say that the purpose of these meetings is "to strengthen one another's faith in God our Heavenly Father, and His Son, Jesus Christ. We do that simply by listening to the stories and the testimonies of some of the new members of the Church, along with some uplifting and inspirational music."
Missionaries who participated in the virtual choir recorded the song while at home in their flats and sent their videos to Elder Adriann Torres who synced together the audio and video tracks in a video program.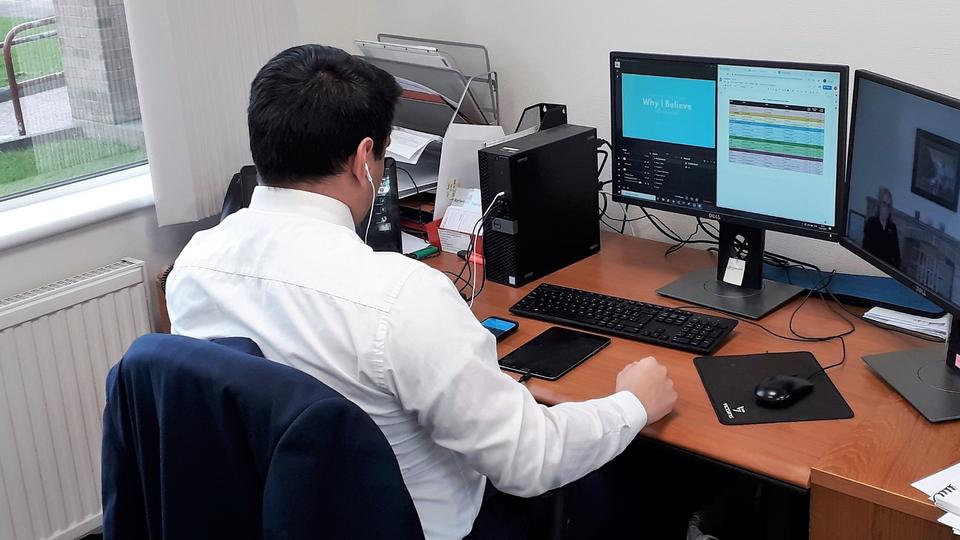 When Elder Torres prepared to go on a mission he thought that it would include traditional street contacting and teaching people in person.
"I've always loved using technology," he said. "Because of the freedom that using social media gives us compared to face-to-face teaching or finding, we are able to think outside of the box and use our talents to catch the attention of those that we are connected with online."
Since the online format was used, time and distance were not a factor for those who traditionally would not have attended. The online congregation was comprised of Church members, friends of the Church, and families and friends of the missionaries who serve in the mission. They were from more than 20 countries throughout the world including the United Kingdom, Taiwan, Finland, New Zealand, Ghana, France, the United States, Mexico, Argentina, Germany, Australia, and other nations.
At the devotional President McReynolds said, "We particularly welcome tonight those who are not of our faith, and hope you'll find some answers to your questions. We pray that something might be said . . . that might help you in your journey."
Speakers at the devotional were new members of the Church (noted below) who shared heartfelt experiences. They all spoke of their personal path to know Jesus Christ; how they found answers to soul searching questions; and how this knowledge has helped them find happiness and purpose. The speakers were as follows:
Jade Ely, Newcastle-under-Lyme
Nicolette Molnár, Liverpool
Jenny Dai, Manchester
Cesar Paniagua, Manchester
Rita Floyd, Preston
Kelly and Lawrence Salvoni, Chester
The social distancing surrounding COVID-19 caused the England Manchester Mission to discover new ways to reach out and bring people closer to Christ. It seems that they accomplished what they hoped to achieve as the more than 1,000 comments posted during the broadcast and on the choir post were overwhelmingly positive and indicate that viewers were enriched by watching.
"This first virtual devotional and the response to the posting of the missionary choir has opened our eyes to the possibilities of social media for greater reach and a more diverse audience," said President McReynolds. "We have already started planning our May devotional and look forward to joining again with others to listen to the inspiring stories of our new members."
To hear the speakers and watch the devotional, click here. The meeting begins at about 00:31 on the timeline.
*As of 15 April, 2020